Hello fellow Bookworms! Happy Humpday!
Before I get into today's Down the TBR Hole book meme, Bookending Summer 19 is right around the corner! The announcement post has gone up on Clo @ Bookdragons's site, Bookending Summer 2019 Announcement.
I'm very excited to be participating as a host this time around. I participated in the Bookending Spring event earlier this spring and it was such a wonderful learning experience, especially since I was a barely two months into the book community then.
If you are new to book blogging or are looking to take part of an amazing bookish event, I highly recommend you click the link above and sign up!
The book tag was originally created by Lia, formerly @ Lost in a Story.
For those of you who haven't taken a look or participated, here's the breakdown:
Go to your Goodreads to-read shelf.
Order on ascending date added.
Take the first 5 (or 10 if you're feeling adventurous) books
Read the synopses of the books
Decide: keep it or should it go?
This is a process that we (I) will be doing every so often meaning that we (I) have to keep track of where we (I) ended and where we (I) will move forward from. From what I've seen many book bloggers have chosen their own intervals but many have done it in intervals of 5. For example Week 1 we (I) will do book/s 1-5 on the TBR list. Then Week 2 will be 6-10 and so on.
This will continue until the whole TBR list is filtered through, leaving only the books you (I) actually plan to read.
I'm all about the Fae, especially when one of them is an assassin. This one is an instant keep; hopefully it's as enjoyable as Shiver was.
---
2. Chosen Ones (The Lost Souls, #1) by Tiffany Truitt
I'm not big on dystopian novels but this book has been recommended so much by some of my friends. I'll put it on the maybe pile for now until I can decide whether I want to read it or not.,
---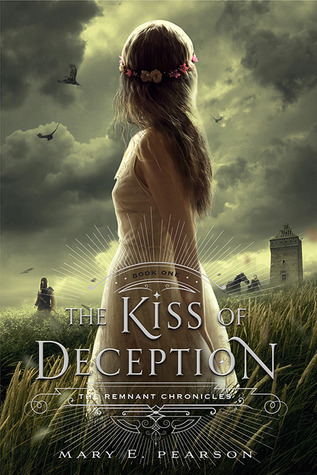 3. The Kiss of Deception (The Remnant Chronicles, #1) by Mary E.Pearson
A princess runs away from her duties and starts a new life in a remote village? Unbeknownst to her the prince she was to marry and an assassin sent to kill her arrive at her new home in search of her? Sign me up for the ride!
---
4. The Burning Sky (The Elemental Trilogy, #1) by Sherry Thomas
I've seen Hannah from So Obsessed with rave about this book recently and surprisingly, it's been part of my TBR for the last four years. Since it's gotten such great reviews, I will keep it.
---
5. Spellbound (Spellbound, #1) by Cara Lynn Shultz
Meeting the One means dying a horrible death? Hmm..I dont really know about this one. I'll add it to the maybe pile.
---
Overall Verdict: 3/5 books will be kept2/5 possible rainy day0/5 books will be removed
What books have you read on this list? Did you enjoy them?
Let me know in the comments below or drop the link to the review you've written
XOXOXO
Jeimy
Related Posts: